Books Worth Your Bucks: Tracks of Her Tears
I accidentally deleted the review I had done for this Kindle in Motion book from my blog and my laptop. I thought it was an important innovation and worth redoing. So if you've seen this, forgive me. If you missed it, don't miss it now.
Amazon isn't publicly promoting this in any way that I have found, beyond just tagging the few books released with this technology so that searching Kindle in Motion will bring up all the titles available. There are only a few so far. What sets these books apart are striking visual elements, like being able to watch the snow fall on the cover. Subtle, but pretty. It makes you want to look inside.
What I loved: Melinda Leigh's story was compelling and kept my turning the pages. A romantic suspense with a whole lot of suspense and a sprinkle of romance expressed by kissing and protecting your loved one. Usually I like something higher up the heat scale, but the visual elements drew me in, adding to the suspense and creep-factor in key scenes.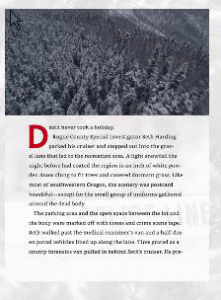 The wintry landscape, that blood-red, drop cap, that face suddenly peeking through blinds as I was reading, imparted that same an edge-of-the-seat feeling I get with a spooky movie. Not all graphics were in motion. Sometimes it was a still pic, a small graphic or page background. Many pages had no enhancement at all. I think the balance of text to active elements was excellent. It is the best of an enhanced e-book can do that I've ever read.


What's not to love about a book that includes cat GIFs? But if you don't like the images and motion features they can easily be turned off in the preferences menu.
Tracks of Her Tears by Melinda Leigh
In the first thrilling Rogue Winter Novella, sleepy little Solitude, Oregon, wakes up to another deadly threat.
County investigator Seth Harding intends to spend the holidays with his newly reconciled family, but a few days before Christmas, a homicide thwarts his plan. Seth arrives at the scene and makes a painful discovery: the victim is his brother-in-law's girlfriend. Her apartment has been ransacked and her toddler left motherless. To make matters worse, Seth's brother-in-law, Bruce, is missing. With Solitude locked in a rare, deadly deep freeze and the temperature plummeting, the residents launch a desperate search.
Seth calls his wife, social worker Carly Taylor, to take the case so the little girl doesn't get lost in the foster care system. With the holidays near, Carly brings the child home with them to celebrate Christmas. But when the Taylor farm is also trashed, Seth and Carly must race against time—and against a paralyzing winter storm—to find Bruce and catch a killer in the first pulse-pounding sequel to the Rogue River Novellas.
Check back again next week. Until then, happy reading.